"They" say that different characteristics are generally true of the different socio-economic classes represented in the United States. For example, most Americans who would consider themselves "middle class" take great pride in finding good deals and bargains, so much so that a compliment on an outfit, furniture piece, etc. is often followed by "And it only cost me ___ because...". The inherent "cheapness" for which said object was acquired generally boosts the value of the item in the owner's mind.
So, if you would spare me this vice...
Yesterday, I went to the local ARC thrift store to find this: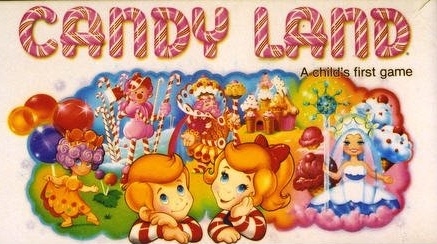 (I want it for my classroom to teach color words.)
And I came home with this:
Before you, you can see my two good as new pairs of
Lucky
and
Ann Taylor
jeans, a
N
Y & Co.
pair of black capris, and two pairs of pants from
Target
and once again
Ann Taylor
. Now lest you think I paid full thrift store price for these beauties, let me clarify that all of these pants were 1/2 off due to the Saturday tag sale for a grand total of about $20.
Now you know my secret, and I value these five pants all the more. The only additional cost I should mention is that while I was waiting to try on my finds, I saw a kid walk by carrying... you guessed it...
Candy Land
. Lesson learned: Hit up the game section first before moving on to deal diving.